Radically improve your marketing ROI with Mix.
Smarter budgets. More effective marketing. Don't just analyze the past. Predict the future.
Mix is a new approach to Attribution and Media Mix Modeling that gives you full transparency for your media,
including all your tactics,
and lets you see results faster than ever before.
Attribution that works with how you think about your marketing.
Built In recommendations to improve ROAS.
Overspend / Underspend Analysis

Above the Line, Out of Home, and Organic attribution included.

Customize your own channel definitions.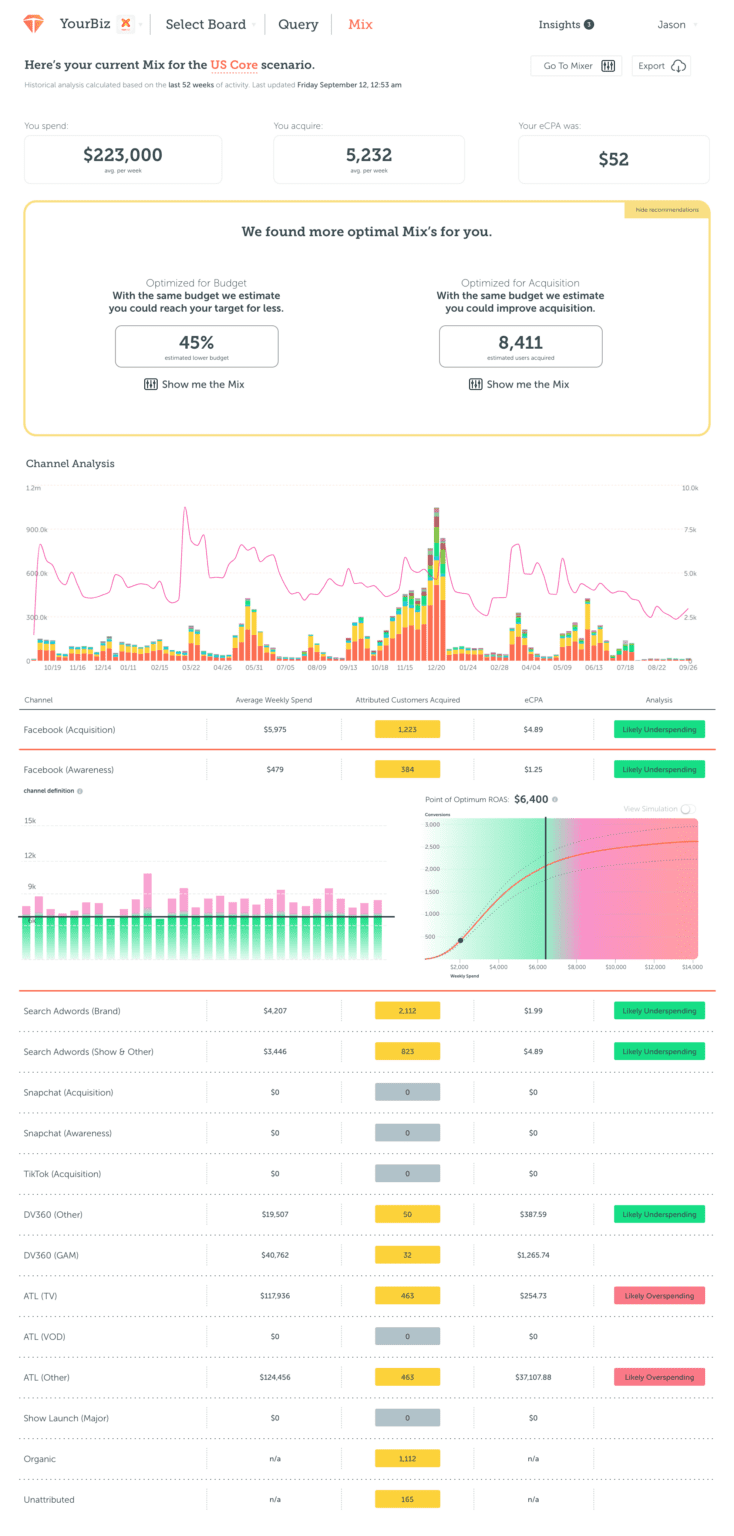 Mix will help you find the best media mix to match your budget or goals.
AI Powered Recommendations >
Whether different regions, or different tactics, you can create a scenario that fits how you budget, plan, and execute.
Build Scenarios & Compare
Total clarity over past results. See how your channels and tactics performed.
< Accurate Historical Analysis
Mix isn't limited to pre-defined channels. You can create a budget that works with your specific combination of channels and tactics, without limitation. 
Your Channels & Your Tactics >
Are you spending too much? Too little? Mix looks at return per channel and tactic and calculates the point of maximum return so you never have to guess.
< Find Maximum Return
One size does not fit all.
Don't limit channel definitions to just "Facebook". Align your channels to your specific tactics and get the truest sense of how each performs.
Hundreds of data connections supported.
Mix works seamlessly with Pickaxe's data connectors and query tools for the most complete picture of your performance.
A playground for everything.
The Mixer lets you build different scenarios, with a mix of budgets and channels, to find the one that will work best for your goals.
Plan your budgets and predict the future.
Mix lets you explore many different budgets and scenarios to find the one that works best for you. Leveraging deep historical attribution analysis combined with built-in machine learning, Mixer gives you the power to get the most out of your budget.
AI Powered Recommendations

Want to know what the best mix of channels and tactics is for your specific goal? Mix will tell you.

Build Scenarios

Want to explore and compare one budget approach to another? Or have a different channel mix in one region vs another? Mixer lets you explore different scenarios.
Find the biggest Bang For Your Bucks

Mixer will evaluate the BfB of your choices, letting you know if this media plan will provide you a better return on your dollars spent.

Find the Point of Maximum Return

Spending more doesn't always just return more. Mixer helps you find the optimal spend points so you can ensure no wasted dollars.