Increasingly, as we approach the "cookieless future" and regulations are put in place to protect consumers' data, it's important to make sure that we're collecting and using data in an ethical way that is compliant with new rules. Data clean rooms are a great way to make the most out of available data, without compromising privacy.
What's a data clean room?
A data clean room is a piece of software that allows brands and advertisers to run targeted advertising campaigns, apply frequency capping, measure and report on the performance of campaigns, and run attribution — all in a privacy-friendly way. Clean rooms mix first-party data with second- and third-party data, without saving any personally identifying information (PII).
This allows marketers to get in-depth information about consumer behavior, without jeopardizing the privacy of their current and potential customers.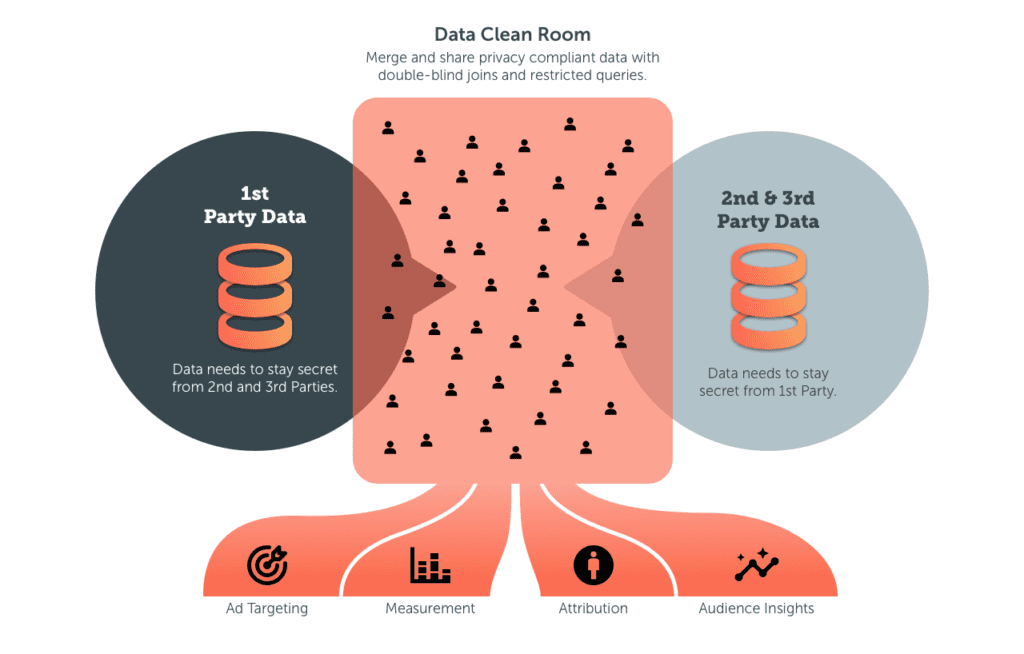 Why does this matter?
For the last several years, new regulations have been put in place to protect consumers' personal information. Regulations like EU's General Data Protection Regulation (GDPR) and the California Consumer Privacy Act (CCPA) have both limited the way marketers can collect information. Additionally, Apple and Google have implemented restrictions on third-party cookies, and given users more control over how their data is shared.
Ultimately, this isn't a bad thing! Customers should be able to determine their own balance between convenience and privacy. Some people want to give up a little more information in order to get accurate search results and discover the products they're interested in quickly; others may be willing to search a little harder because they don't want to feel their privacy is being invaded. And not collecting PII doesn't hurt analysis – after all, peoples' email addresses don't tell us very much about patterns in consumer behavior. Even with new privacy restrictions, we're still able to collect more data than ever before. Marketers just need to be smart about how they use it.
Because of ever-changing data regulation, we've seen widespread adoption of data clean rooms. According to a recent report from IAB, 64% of companies that are using privacy-protection technology are using data clean rooms.
These days, CDPs are a popular and effective way to make the most out of a data clean room. Customer data platforms (CDPs) are platforms where you can bring together first-, second-, and third-party data, to build a single customer view. Combining a CDP with a data clean room can enable you to look at first- and third-party data side by side without any PII, keeping your consumer data secure while enabling you to get a deeper, more nuanced analysis.
As the IAB report points out, data clean rooms are "not turnkey technology". Moreover, while most users of data clean rooms are using them for privacy protection, less than one-third are taking advantage of the insights that they can provide. Data clean rooms, in conjunction with CDPs, are powerful tools for media or marketing mix modeling, predictive analysis, ROI measurement, and more. The main reason these features aren't being used is that implementation requires a significant amount of time and investment when done internally.
That's where Pickaxe comes in. We can help you create the infrastructure you need to stay compliant with privacy regulations, while also making the most out of the data you have.